Musik im Haus 2018 - Musicians as guests in production rooms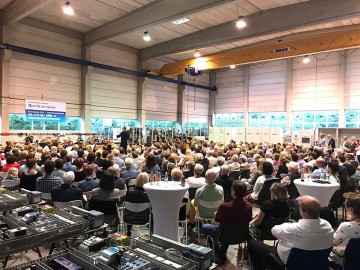 16 June 2018: Concert of the symphony orchestra "OPUS 125" at Hepp-Schwamborn.
For the seventh time, the Association of Friends and Promoters of Music, supported by the City of Mönchengladbach and the Marketing Gesellschaft Mönchengladbach mbH, organised "Musik im Haus", a music weekend that has become a tradition.
Our company also supported this project.
On Saturday, 16 June 2018, the OPUS 125 Symphony Orchestra gave a concert in one of our halls.
The orchestra under the direction of Michael Mengen inspired with Spanish Habanera and Argentinian Tango.
Hot rhythms and glowing melodies really charged the production hall that evening and immersed it in southern sounds full of emotion and passion.
To the >> report from the Rheinische Post of 21.06.2018, in which this series of events is reported.